Nordic Walk along the Marne
Nordic Walk  Your guide gives you the nordic walking sticks and you can live a one hour and a half experience of fitness and fun exercises. You discover like an explorer new wonderful paths.
Any time you want with your group
Every Saturday 10.00-11.30 until may for individuals
Walking is the most natural way of moving to somewhere, everywhere in the world. What about you ? How often do you walk ? Why ? Where ? How long ? Do you sometimes suddenly leave your car in the parking or flee the underground tube station and say "Hey, the sun shines, I could go there and have a walk". Good for your health, good for the planet. What a great moment of hapiness it is when you decide to walk in Paris or London or Amsterdam, along the river to go to your business meeting point.
 
Our prefered heroes of everyday life are …the walkers : Many of you walk 1, 2, 3 miles every day to commute. Many of you walk on holidays long distances on footpaths in nature. And of course so many people like to be pedestrians strolling in the city center.

We want to promote the every day walk as a way of commuting, shopping with proximity. Le Grand Huit is eager to promote the pedestrian space and rights in the city. To promote this way to re-discover our cities and our rivers.

How ?

- by helping the city councils to promote and sensiblize about pedestrian respect in the city ?
- by organizing walks to rally together the seminar of your company or university ?
- by guiding day and nights tours with active walk in gorgeous historic cities ?
- Being referent in advising and coaching about posture and movement of walking ? ?
We want to do all of that . Do you fancy contibuting ?
Some new trends appear and different movements and NGO are promoting urban walk : The Legible London process, The Urban Walk congress in Berlin, the new Toulouse association "2 pieds 2 roues" who fights for pedestrian consideration in the city, works of Lille Metropole to indicate pedestrian possibilities … And you ?
Solène, urban walker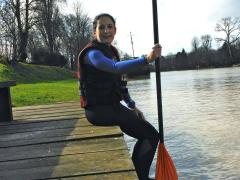 My friends often are teasing me, remembering my little sentence : "When you are at the Seine, you are at Montparnasse". Winter 2011, back from Pigalle and a party night, 03 am. Our group begins to walk towards Montparnasse looking for a cab. Good to walk after what we've drunk ! No taxi yet, and I say "So, let's go on walking, when we are at the Seine, we are at Montparnasse" This day I was beginning a new urban walker life : back form parties of course, but more, every day commuting by walking now : 50 mn on a 4 kms walk to my job, instead of these boxy dreadfull 30mn underground and corridors… Many chic shoes are awaiting me when I arrive at the office, and I feel so happy every morning and night to have done exercise and oxygenation. And I am very proud too to see around me, little by little, colleagues beginning to walk too, and being so happy to do so. Solène